The last two years we provided surf camps for 14 and more guests. Two groups parallel, beginner to advanced, each week. We had an amazing time but realized it is impossible to go in depth with so many guests at the same time. The vast majority of surf camps across the world seem to focus only on beginner and low intermediate surfers. Many surf schools claim to cater for advanced/intermediate surfers as well, however, most of the time these camps lack the expertise and just offer surf guiding without a proper analysis. As a surfer progresses, she or he will reach a point where most surf camps can't teach them anything new anymore and the surfer reaches a plateau. We created our intensive, unique surf coachings exactly for this type of surfer.
In order to ensure a high quality coaching, we limit the group size to six persons. Intermediate or advanced level coachings alternate weekly, please check your level and our event schedule to find your perfect coaching.
You will unlock your full surfing potential and fast track your progress during our coaching weeks. Get ready for specialised, intensive and personalised coaching focusing on body mechanics, performance analysis, theoretical lessons, technique, psychology and lots of surf photography. Your surfing will be analysed into the finest details by our very experienced British head coach Scott and Aussie Dude Andi.
Not so much time? No worries. We also offer the intermediate and advanced surf coaching for 5 nights/4 days surf.
What is intermediate level?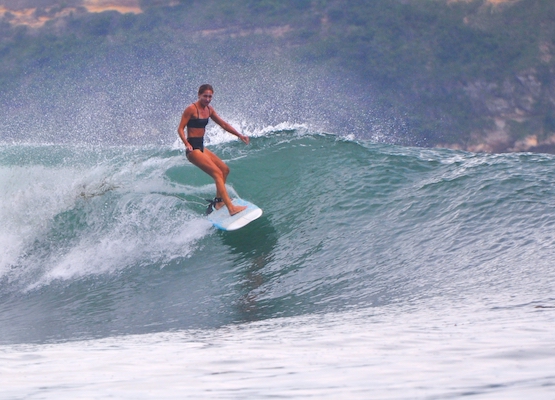 You are an intermediate surfer if you are inconsistent with catching waves and take off, unsure how to read the waves, have problems with positioning in the line up and have trouble with the bottom turn but are able to surf down the line.
You are no more a beginner but still don't have full control over your board? Then our intermediate coaching is perfect for you. You will learn how to read the waves better, how to handle the line up, improve your take off and get more insight into improving your bottom turn and further techniques during this week.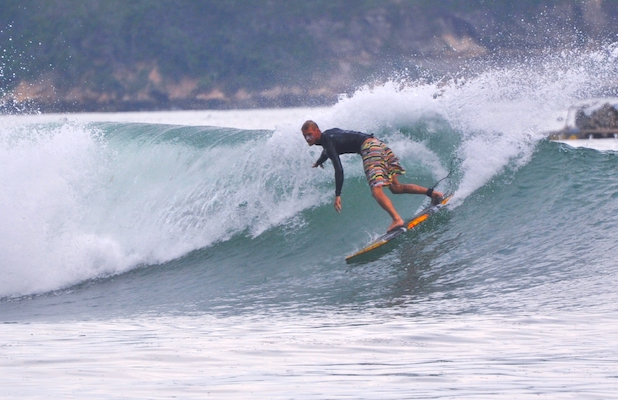 You are an advanced surfer if you are able to catch and read waves , handle the line up, have a solid take off and no issues with a bottom turn, are able to ride along the wave (right & left) and already able or attempt for technique maneuvers like Cut back, Snap and speed generation.
If you feel stuck on a plateau and you are not improving any further, then our intense advanced technique surf coaching program is definitely right for you!
What does a typical coaching day look like?
Depending on the tide and the weather:
breakfast at the Lodge
transport by car (and boat) to the surf spot
morning surf session lasting about 2,5 hours
back to the Lodge
theory workshop or in-depth photo analysis sessions @Drop In
afternoon/ sunset surf session lasting about 2,5 hours
dinner at the Lodge
during the week you will have 10 surf sessions in total (rumour has it we are a fun-filled surf bootcamp)
included:
7 nights accommodation in our mediterranean bungalows with daily housekeeping
6 intense days of surfing
 photo - analysis with FREE pictures to take home
daily detailed theory lessons with a lot of input
step by step guidance and daily personal feedback
duck diving training (on request)
transport on surf trips (boat & car)
tips, tricks, insider stories & surfing secrets
daily breakfast & dinner and fruits
welcome and goodbye BBQ
1 in-house massages
scooter for 6 days
free airport transfer
shuttle service to town (2x)
free flowing coffee / tea and water refill
free wifi & goodie bag
Sunday to Sunday, minimum age is 16