Advanced Level
The vast majority of surf camps across the world seems to focus only on beginner and low intermediate surfers. Many surf schools claim to cater for advanced wave riders as well, however, most of the time these camps lack the expertise. As a surfer progresses she or he will reach a point where most surf camps can't teach them anything new and the surfer reaches a plateau. Exactly for this type of surfer, we created our intensive Technique Surf Coaching Week.
If you feel stuck on a plateau and you are not improving any further, then our intense technique surf coaching programme is for you!
Scott, our British head coach who has lived and surfed all over the world, will unlock your full surfing potential and fast track your progress. Get ready for specialised, intensive and personalised coaching focusing on body mechanics, performance analysis, theoretical lessons, technique, psychology and lots of surf photography. Your surfing will be analysed into the finest details.
This specialized package takes place several times a year, have a look at the dates below. Our weekly surfcamp packages (beginner - good intermediate) take place all year round!
What does a day look like?
Depending on tide and weather:
Morning surf session at one of Lombok's beautiful surf spots lasting two to three hours. Coach Scott will be taking pictures
Breakfast at the Lodge, or when on a road trip on location
Highly detailed wave-by-wave photo analysis at the Lodge or on Spot
Theory workshop covering speed generation, bottom turns, cutbacks, etc at the Lodge
Insider tips and classic surf stories from Scott
Lunch
Afternoon surf session lasting about 2 hours to take theory and feedback into practice
Return to Drop In Lodge
If you still have the energy, dinner in Kuta or at Drop In to fall straight into bed afterwards
To join this intensive advance level programme…
... you need to:
Know how to position yourself in a line up;
Be able to catch waves by yourself;
Be able to ride along the wave (left or right)
Be able to perform a bottom turn
Have your own surfboard
It would come in handy if you could duck dive
included, dates and prices:
7 nights in our tropical lodge
6 days intensive surfing (10 sessions)
daily detailed theory lessons with focus on analysis & technique
personal analysis sheet, feedback and coaching
4 - 5 photo sessions and your surf photos for free
all amenities of the Drop In Lodge
airport transfer
daily healthy power breakfast
welcome dinner
all transportation and boat costs
farewell evening together in Kuta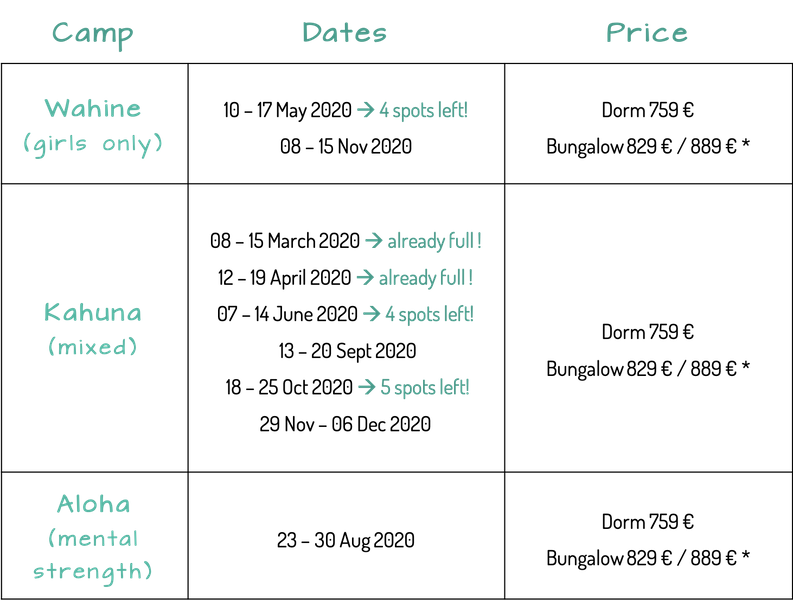 *High Season from 1.7. - 31.10.20
Bungalow for 2 persons. Single persons can book a bungalow for private use (140 € surcharge).
Minimum age for surf camp is 16. Surfcamp for in-house guests only.
(Changes from Wahine into Kahuna are possible depending on demand.)
some impressions of our Aloha Surfcamp in August
some impressions of our Wahine Surfcamp in April