our team
Drop In Lombok Surf Lodge has a small team of excellent surf instructors who are highly trained, fluent in English and love sharing their wealth of knowledge and experience with surfers who are keen on learning and improving their ride. All our surf instructors, with the exception of Scott and Jordan, were born and raised in Lombok.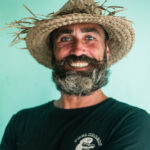 Scott: "Papa Smurf" of our crew
Before Scott came to Lombok in 2007, he travelled and surfed the world. His passion for surfing is endless; he loves talking about it for hours and inspiring ours guests with his exciting stories. He is not only a gifted surfer but also a passionate teacher who knows how to share technical surf knowledge and stoke our guests at the same time.
Scott has been working with some of the boys for more than ten years and he has not only taught the boys English, but has also passed on much of his knowledge and trained them to become the best coaches on the island!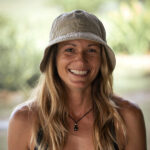 Jordan: Our Canadian Ocean Guide
Jordan is an experienced technical surf coach, confident ocean guide with endless enthusiasm and a true passion for surfing. She has been living and coaching surfing in different places around the world for the last 15 years and is also a yoga instructor and personal trainer. Throughout all her experience with athletics and coaching, she has developed her own unique art of teaching. She loves to share all aspects of surfing, specifically the physical technique but also the inevitable appreciation for the ocean that it brings.  She loves to dance, brings good vibes, high energy and has a contagious smile and cannot wait to coach you and share her love and passion for the ocean and life.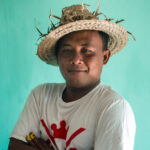 Bahar: Our "Aquaman"
If anyone has two sides, it is our Bahar. If you meet him onshore he is shy and very quiet. But as soon as he gets into the water, whether surfing or in the pool, Bahar turns into a solo entertainer. He is the master of the correct positioning. Even his colleagues wonder how he always sits in the right place in the line up.
Ing: The guy with the insider tips
Ing is our local manager at Drop In and looks that everything runs smoothly. He knows Lombok like his pocket and has great tips for any adventure! Super friendly, patient and his knowledge about the Island is unpaid.
the owners
Mirjam and Catherine met years ago in the Swiss Alps where they were studying, skiing and enjoying life to the fullest. They travelled to Indonesia for the first time in 2007 and it was love at first sight. After having visited Indonesia several years in a row, they decided to take a break from their jobs in Switzerland to follow the dream of building a tropical home in Indonesia. When Mirjam and Catherine met Solli, that dream was about to become reality. Mirjam and Catherine both have a base in Engelberg in the Swiss Alps where they work as teachers. They travel to their tropical surfer's home in Lombok as often as possible.
Solli is originally from Munich, Germany where she owned a café. She discovered her passion for surfing later in life and decided she wanted to surf all-year round rather than just a few times a year. To make this happen she moved to Lombok which she has been lovingly calling her home ever since. In addition to co-owner, Solli is Drop In's General Manager and the hostess ensuring you have an excellent time at the Lodge.