News from Drop In:
As you probably read in the news,  the North of Lombok as well as the Gilis got hit by a strong earthquake last Sunday.
Many people lost their houses and loved ones. Drop In is located on the South Coast, which has been totally spared by the earthquake – luckily no damages and no injured people have been reported in the whole South of Lombok! However, we also felt the strong shaking here and can only assume how scared the people in the affected areas must have been.
We, like many other people and businesses in the area, now collect money and staples to send to the north – if you feel like supporting the affected people, please think of the Endri Foundation, a trusted charity on Lombok!
South Lombok is safe to travel and as beautiful and peaceful as ever! We are looking forward to seeing you at Drop In! 🙂
We care about our environment and after getting rid of straws we decided to take it one step further and don't sell single-use water bottles anymore at Drop In!
We got beautiful bottles from Trash Hero which we sell at Drop In and its profit directly goes into our "Project Ebunut"!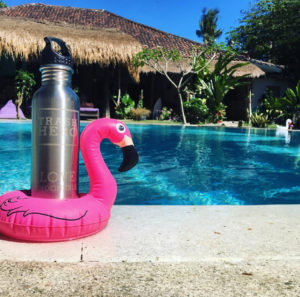 Talking about "Project Ebunut": TOMORROW IS THE BIG VILLAGE CLEAN UP!!
We are very excited and can't wait to make our village beautiful again!